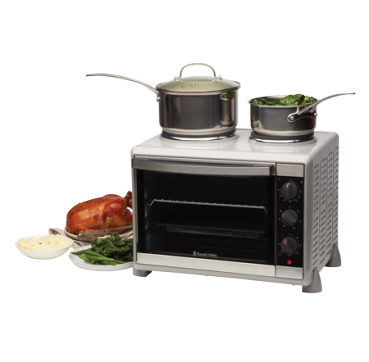 Russell Hobbs Compact Convection Oven with Hotplates RHTOV2HP
$149.00
Important Note: This appliance may temporarily be unavailable. Contact your nearest store for availability.
Multi-function electric compact cooker with hotplates for roasting, baking, grilling, frying & boiling
Thermostatic controls 60 – 230°C
Convection oven
Double hotplate
Oven: 1600W
Large hotplate: 1000W
Small hotplate: 750W
30 litre capacity
Semi transparent mirrored glass door
Includes baking tray & grilling rack with handle
Power on indicator light
Description
Russell Hobbs RHTOV2HP – Compact Convection Oven with Hotplates
The Compact Kitchen Toaster Oven from Russell Hobbs is the handy, space saving appliance you've been waiting for! This compact, convenient and versatile Toaster Oven is ideal for roasting, baking, boiling, frying and grilling to perfection.
Whether you're thinking of using the Compact Kitchen as a main oven, in a second home, caravan or boat it has a sufficient 30 litre internal capacity, which allows the appliance to be neatly stored whilst still giving you enough volume for all of your cooking needs.
Multi-function electric compact cooker with hotplates for roasting, baking, grilling, frying & boiling
Thermostatic controls 60 – 230°C
Convection oven
Double hotplate
Oven: 1600W
Large hotplate: 1000W
Small hotplate: 750W
30 litre capacity
Semi transparent mirrored glass door
Includes baking tray & grilling rack with handle
Power on indicator light