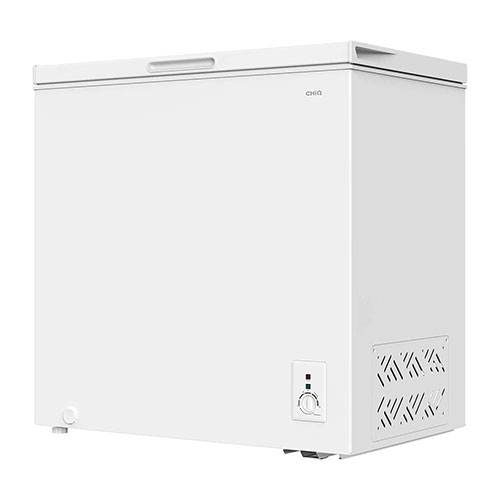 CHiQ CCF199DW 200L Hybrid Chest Freezer
$356
Smart Storage
Dual Function
Interior Lights
Easy Maintenance
Compact Design
Description
Additional information
Category Descriptions
Description
If you have been looking for an additional refrigeration unit, CHiQ CCF199DW hybrid freezer would be an amazing choice. It boasts a spacious 199L capacity, offering enough room to stock up on groceries, meat, beverages, and other essentials. This chest freezer can be converted from a freezer to a fridge, catering to the demands of busy kitchens. It features an electronic control panel from where you can set the desired temperatures. This 199L hybrid fridge features a removable basket with a mesh wire partition that lets you easily organise the items. It comes equipped with an interior light that makes it easy to search the stored contents.
CHiQ CCF199DW hybrid freezer boasts a sleek white finish which is sure to complement most interior settings. It features a drain that siphons away melted ice, or water making cleaning sessions a hassle-free task. This 199L chest freezer boasts a low profile, and can easily fit in slightly small kitchens. It is driven by an efficient compressor that ensures a dependable serviceable life.
FACTORY SECOND, SCRATCH AND DENT and T2 (Trade 2ND)
Factory second products are sold due to common imperfections such as a scratch, dent, ex display, ex demonstration, minor re work, carton damage and/or changeover products.
What is the difference between Factory Second (NAT) and Factory Second (BNE)?
Factory Second (NAT) are Products which work as the Manufacture intended, and is covered by an Australia wide, non-cosmetic, in house or return to base warranty.
Factory Second (BNE) are Products which work as the Manufacture intended, and is covered by a Brisbane based non-cosmetic warranty which is an in house warranty if located within a 40KM radius to the Brisbane CBD, or a return to base warranty if the product is located outside this radius.
REFURBISHED
Refurbished products may be resold by the manufacturer or supplier after repairing a minor defect and testing to verify proper function. These types of seconds may also be deemed as refurbished due to the appliance being an ex-demonstration model, used for a short period of time or used as a test unit.
RETAIL (Carton Unit)
Retail units are unused, unopened, undamaged items and carry a national manufaturer's warranty.
All Factory Second & Refurbished appliances come with a warranty and have been tested thoroughly and are sold in perfect working order.
All terms and definitions of what constitutes a refurbished or factory second appliance as listed above are to be used for general advice only and any/all representations stated above are not limited to why they have been categorised as a factory second and/or refurbished unit.