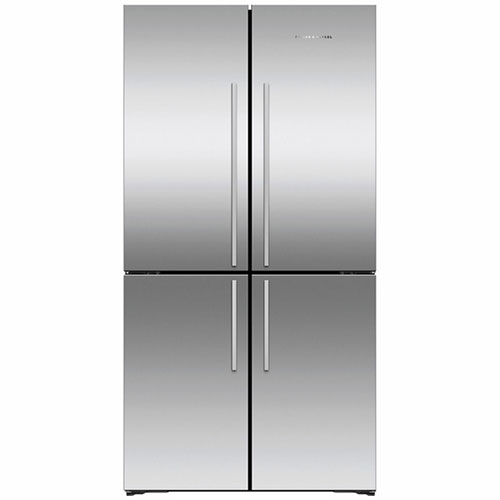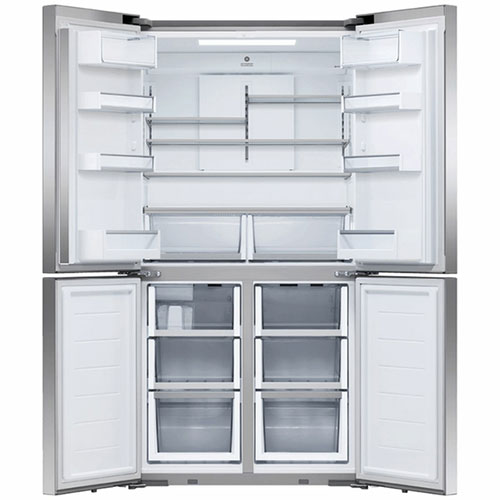 Fisher & Paykel RF605QDVX2 605L Quad Door Fridge
$1,652
Variable Temperature Zone lets you change a compartment to Fridge, Chill, Soft Freeze or Freezer for optimal storage
ActiveSmart™ technology helps keep food fresher for longer by constantly maintaining the ideal temperature
Spacious bottom freezer with easy-slide internal drawers to separate storage
Easy one -touch control panel
Flexible storage and access
Description
Additional information
Category Descriptions
Description
The 605-litre Quad Door Fridge Freezer from Fisher & Paykel provides ample storage space for large families, plus more. The quad door design makes accessing fridge contents easier than ever, and the minimalist, stainless steel flat doors will complete your kitchen's modern look.
Well structured adjustable shelves and bins lets you organise, and access your food with ease, and customize your storage options, depending on the day. Enjoy a constant supply of ice via the convenient internal ice bin. The ActiveSmart Foodcare technology regulates an ideal temperature by consistently adjusting airflow and humidity inside your fridge, conserving the freshness of food for as long as possible. For extra temperature control of specific foods, you can use the Variable Temperature Zone, which allows you to change the temperature of a specific compartment of the fridge, which is perfect for preserving delicate dishes when you've got guests over.
Interior LED lighting throughout the fridge enables easy visibility of your food at any time, even those items at the very back.
FACTORY SECOND, SCRATCH AND DENT and T2 (Trade 2ND)
Factory second products are sold due to common imperfections such as a scratch, dent, ex display, ex demonstration, minor re work, carton damage and/or changeover products.
REFURBISHED
Refurbished products may be resold by the manufacturer or supplier after repairing a minor defect and testing to verify proper function. These types of seconds may also be deemed as refurbished due to the appliance being an ex-demonstration model, used for a short period of time or used as a test unit.
RETAIL (Carton Unit)
Retail units are unused, unopened, undamaged items and are of a "brand new" quality.
All Factory Second & Refurbished appliances come with a warranty and have been tested thoroughly and are sold in perfect working order.
All terms and definitions of what constitutes a refurbished or factory second appliance as listed above are to be used for general advice only and any/all representations stated above are not limited to why they have been categorised as a factory second and/or refurbished unit.